Old Milton Professional Park - $48,000.00 annual income in place with 3% annual escalation through Oct. 31, 2018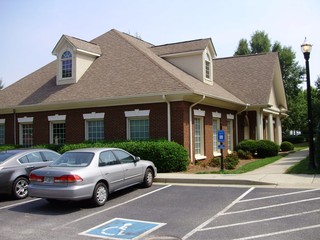 Location:
Alpharetta, GA
Please call 770-241-5658
100% occupied through Oct. 31, 2018. Current gross income $48,000 per year with 3% annual rent escalation through 2018.
- Single story 4,000 ± SF office building.
- Tenanted by an IT company.
- The current tenant is named by Forbes Magazine as one of America's Most Promising Companies
- Occupied by the same tenant since November 1, 2011.
- The current lease expires on October 31, 2018.
- Tremendous upside potential with traditionally strong office rent market in the area.
- Easy Access to Old Milton Parkway
- Signalized entrance/exit to the office property.
- Approximately 2.3 ± miles east of GA 400 near GSU Alpharetta Campus, NCR Corporation,
Agilent Technologies and a host of other Fortune 1000 companies.
- Near Publix, Starbucks, FedEx Office, and close to numerous shops and entertainment.
Please call 770-241-5658
All information has been obtained from sources believed reliable and is subject to change without notice. No warranty or representation, expressed or implied, is made as to the accuracy of information contained herein. It is the responsibility of each prospective tenant and/or buyer, or any interested party to independently confirm its accuracy and completeness of any information.
Please call 770-241-5658
Ben Choi
Coldwell Banker Commercial Metro Brokers
#6783204800
11381 Southbridge Parkway
Alpharetta, GA 30022
View Map